"Respondents reaffirmed that mobile apps have become their most frequently used channel, with 73% citing usage once a week or more, and 62% citing it's a service they cannot live without." – Chase 2021 Digital Banking Attitudes Study
The future of banking is no longer an eventuality. It's here. Why?
For years, a revolution in banking has been building. In 2018, roughly 65% of Americans used digital banking; by 2021, 76% of Americans were reporting that they had used their bank's digital app. Enter digital-only banks, a new market threat, who provide more options for customers by working at the intersection of modern technological solutions and experience.
What gives us confidence in making this assertion? As a subset of FinTechs, digital-only banks have been increasing trust with consumers, while traditional banks have become more and more vulnerable. To protect market share from new market entrants, retail banks need to become invisible, connected, insights-driven, and purposeful. It's up to traditional banks to change with the times—or risk being left behind.
It's up to traditional banks to change with the times—or risk being left behind.
Traditional vs. Digital-Only Banks
When we look at the overall banking landscape, we use the perspective of customers to break our view into two categories—is this a bank (with branches), where the customer can go in person to open an account, what we would call a traditional bank, or is this a digital-only bank (no branches), where the customer must have access to a mobile app or desktop computer in order to open an account?
Traditional, or legacy banks, are what we mean when we discuss "retail banks." They've been around for decades (or centuries, in some cases), and have built their name on brand and cost controls rather than customer services or experience provided. This focus on cutting costs and resting on its reputation is a recipe for disaster. Most traditional banks have a brick-and-mortar presence and are what come to mind when one thinks of standard banks. Included within this category are financial institutions like incumbent banks and credit unions.
While many traditional banks have survived the initial migration to online services and offerings during the rise of the internet, many were built on traditional architectures rather than cloud-based ones. Implementing a modern architecture is likely required, in order for retail banks to return to their leadership position within Financial Services, beating back the encroaching FinTechs. Often, these banks have a rough idea of what capabilities are needed to modernize and implement a digital transformation but are wholly focused on broader ideas such as risk management, revenue, and increasing market share. As a result, they are perhaps unaware of the obstacles they may face and certainly behind.
In stark comparison, digital-only banks, founded after the adoption of the internet, are unencumbered by backlogs of regulatory updates or tech debt as deep as their traditional-bank counterparts.  Further, these banks don't have physical locations and prioritize customer experience and customer conversion through lower fees and better interest rates. Digital-only banks have the luxury of focusing on their competition instead of tech debt and can pour resources into brand consistency (like design systems or elevated company libraries) or offering features that sustain a competitive advantage (often through better applications, more personalization, etc.).
The traditional banks are up against the wall.
What does the consumer want?
Today, modern consumers are not limited to the brick-and-mortar banks across town or the investment advisor recommended by their parents. Consumers have unprecedented access and freedom of choice, and, more than ever before, meeting consumer needs has become pivotal to the success of the banking industry, where innovation has been stifled for decades.
In 2020, Mastercard surveyed 4,000 US and Canadian consumers. Researchers discovered convenience is the driving force behind digital-first adoption. Over 80% of consumers use digital banking to pay bills and check their statements. Over 50% use digital banking to pay taxes, send money, and manage their credit score.
Most importantly, Mastercard discovered most consumers considered digital banking mainstream—while they still had privacy concerns, over three-quarters of Americans had already linked their bank accounts to digital services.
What can banks do to meet the needs of the modern consumer?
According to a report by Forrester, banks must meet the needs of the agile, empowered consumer whether they are digital-only providers or offer branches with in-person experiences. For the first time, consumers have the power when choosing how they will bank. They have a proliferation of choices and can go with whoever will give them the most beneficial experience.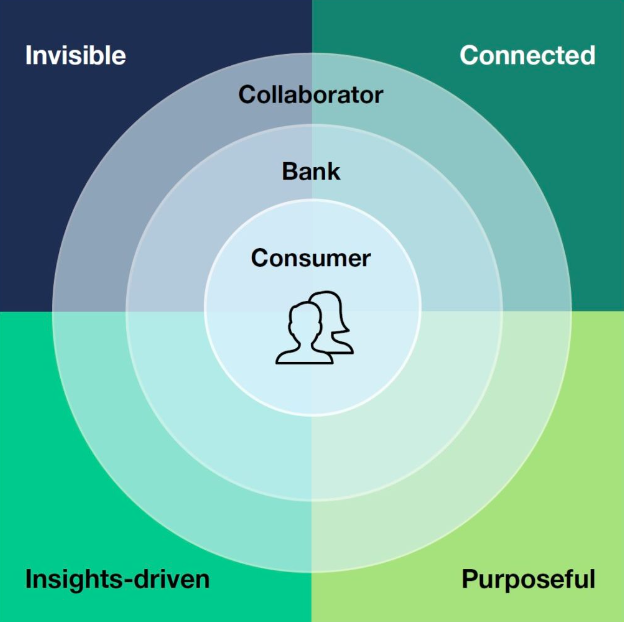 To meet the needs of this changing consumer base, banks must become:
Invisible. Integrated to provide value in context at the expense of brand visibility.
Connected. Offer seamless, interoperable ecosystems across customer experiences.
Insights-driven. Provide meaningful advice in exchange for trust in data ownership.
Purposeful. Partner in globally responsible and values-driven customer communities.
Act before it's too late
Whether you're trying to modernize your small-to-mid-sized bank or set your FinTech up for success, now is the time to start. Building a resilient, future-proofed set of financial services requires the right technology—integrated intelligently.
Are you a small to mid-sized bank hoping to build your digital footprint?
You can either embrace digital transformation and the new financial industry—or see your consumers leave for more convenient, accessible technologies. From mortgage lending to credit cards, the financial landscape has already shifted to on-demand.
Are you a FinTech startup?
You can race past your peers by proactively addressing the major problems of the industry—economic woes and regulatory standards—or you can find yourself struggling to gain a foothold in an environment that becomes increasingly competitive by the day.
The choice is yours. The technology is ours. And the future of banking is here to stay.